Tom Hazzledine
drystonewalling@tomhazzledine.co.uk
01993 881476 ------------ 07980 564508
Wherever you see this sign look out for Tom.

During the winter months Tom sells kindling and salt and provides a gritting service - see the link and top up supplies early.

Work started or completed.

All photographs on the site

© T Hazzledine

Plenty of information on dry stone walls as well as creatures and plants that colonise them.

Winter gritting

Summer mowing
DRY STONE WALLING
Turning a pile of stone into a fine wall.

Repairing a badly damaged old wall. Note the unusual original capping with slates under the coping stones which was replaced with flat stone slabs.
Latest work
Work this year has continued unabated, despite the snow, cold and rain. Here are a few of the projects Tom and his team have undertaken since the beginning of the year. If you would like to see any of them 'in the flesh' please contact Tom and he will be happy to give you the address.
The most recent - as at November 2013 - in Brize Norton (showing before and after), Great Rollright and Kingham. Below that are two photos of the new wall in Standlake and one in Chipping Norton. At all times Tom strives for quality so that the walls will stand for many decades to come.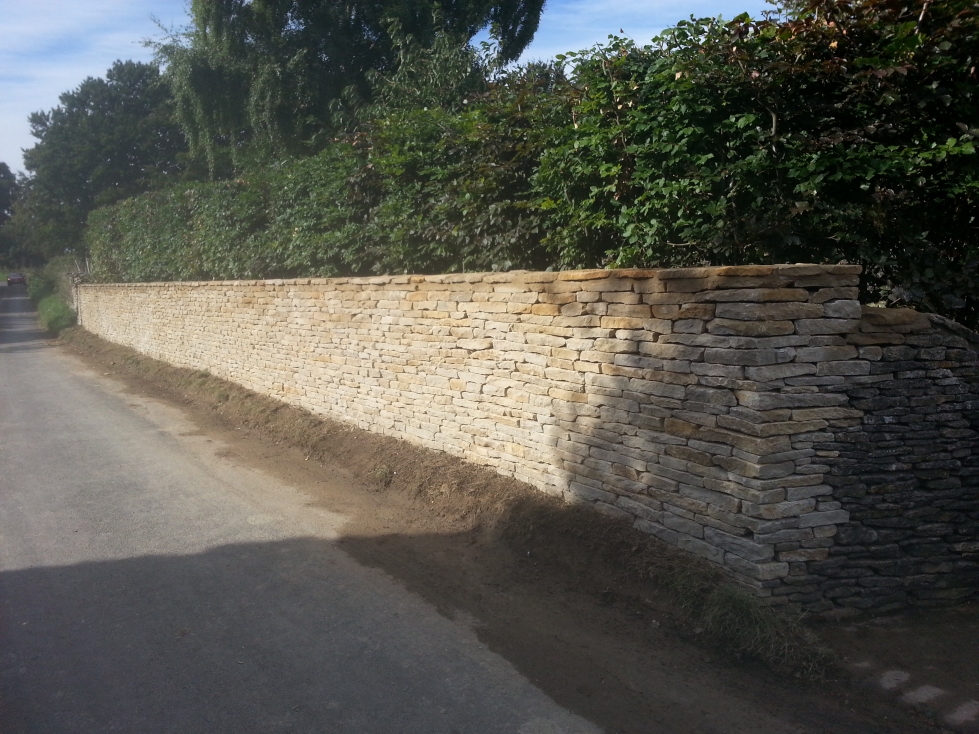 Asthall is now complete.
| | | | | |
| --- | --- | --- | --- | --- |
| | | | | |
| | | | | |
| --- | --- | --- | --- | --- |
| In Kingham a wall facing the Green has been started Before work it is important to clear a site and perpare it well. Stone may need to be ordered in early especially if a large quantity is required. Also note the taping off in Kingham and in Asthall where the verge is very narrow. This may be thought of as a nuisance to motorists but is a requirement to comply with H&S. In the last photograph work will be done 'at height' which is more time-consuming and wallers must take the right safety measures. | | | | |
| | | | | |
Two recent repairs - winter repair in Wheatley and one in Broadwell where the wall has domed capping on one side and 'soldiers' on the other - a most attractive effect.
Copyright TPG Hazzledine © 2013